What makes StainlessGrillGrate.com Stand out?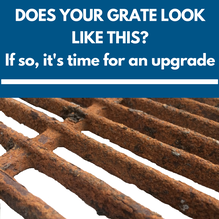 - SOLID 304 Stainless steel bars and end pieces (not hollow or jacketed)
- Small family run business in the US working with Stainless Steel for 40+ years (making grill grates since 2010)
- Every order custom made to the size and preference of you, our customer
- From 1 piece to multi piece, you get what works for you and your grill
You won't find this level of customization at the Big grill companies
- Order exactly what you want, and we will work directly with you to make your ideal grill grate
- Produced over 745 unique sizes, not including duplicates. Making a large fire pit or outdoor barbecue? We've got you covered. Can't find your grill's replacement grate online? We can make it!
- Extremely long lasting due to our manufacturing process and high quality stainless steel
​- The first grate we ever made is still in use, on our own grill. Over 8.5 years old and still grilling strong!
---
---
Top Benefits of A New Stainless Steel Grill Grate

- No Rust and minimal maintenance
- Ease of cleaning - Warm soapy water is usually sufficient for general cleaning
- Safety - Don't mess with contaminants and rust chips getting in your food
- Visually Striking and a great grilling surface - Nothing looks or cooks better!
- Extremely Durable - Will last for years!


Replace your dirty old rusted grill grate with a custom sized stainless steel grill grate!

Installed in our OWN grill in 2010 -- it's still in use!
More details on our grates:
Precision Fit -- All grates are made to fit your grill exactly. Measure your grill for a close fit
All grill grates are made with SOLID 304 Stainless Steel Grill Grate bars are 1/4" in diameter, Spaced under the size of an uncooked hotdog, so you won't lose those dogs!Due to each grate being custom manufactured, grates ship approximately 3 - 4 weeks after payment processing For larger than 1400 square inch grill grates,​ please contact us